My mindful guide for how to 'de-stress' your Christmas!
Posted on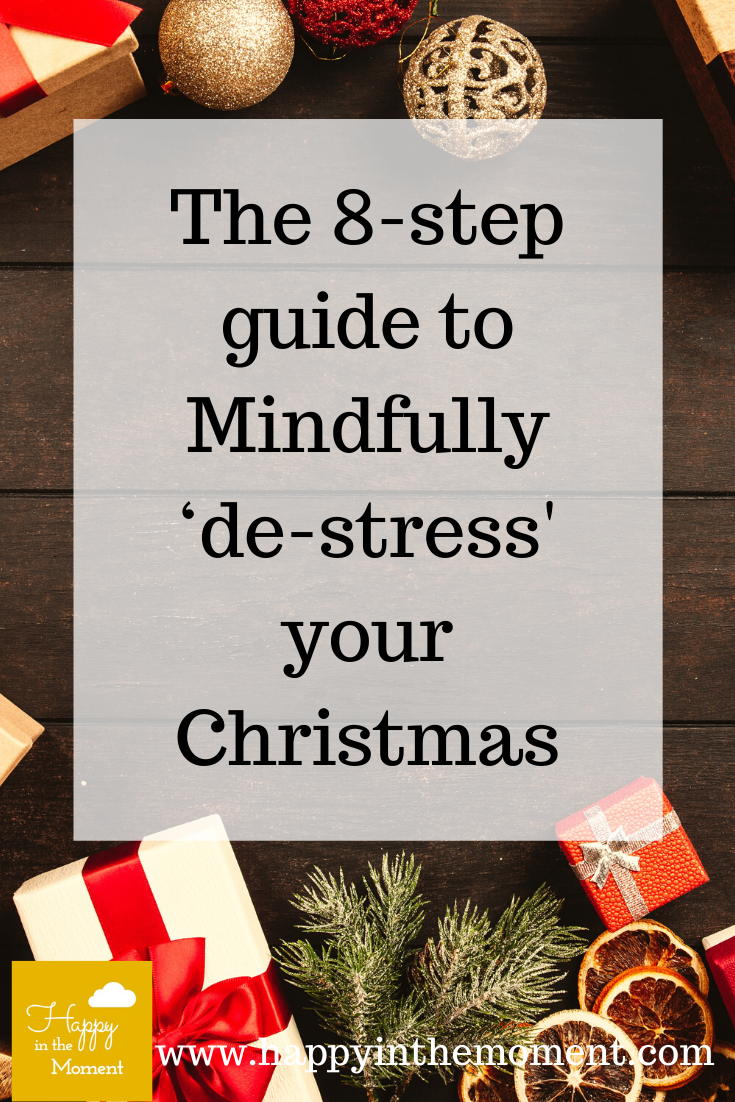 Christmas can be the most stressful time of the year. With 4 children and a large family to cater for, I know how stressful it can be, but it doesn't have to be this way... If you follow my eight-step guide to 'de-stressing' your Christmas then it just might become one of the most relaxing times of the year.
Eat chocolate mindfully.
We all know we're going to overindulge over Christmas, so why do we fight it?! Christmas is not the time to diet or worry about the tight waistline. In my opinion, Christmas is about indulgence, joy, comfort and love, not restriction and self-judgement. So, if we really want to be de-stress this Christmas, lets enjoy the mince pies and chocolate mindfully with all of our senses. Did you know that chocolate has over 300 separate flavours within it? I'm now giving you permission to reconnect with your senses, explore all the wonderful textures, flavours and aromas, and enjoy the process.
2. Go for a Christmas walk.
Have you ever noticed how beautifully quiet it is on the streets on Christmas Day? Walking is a brilliant stress reliever and mood booster. A good walk can put the world in perspective and soothe your frayed nerves. It's the ideal way of taking a break from all of those jobs you'll need to be getting on with and all of the people who may be getting under your feet!
So, why not go for a 15-30 minute walk? You don't have to go anywhere special and there's no need to feel that you have to rush anywhere; the aim is to walk as mindfully as you can, focusing your awareness on your feet as they land on the ground, and feeling the fluid movements of all the muscles and tendons in your feet and legs. Pay attention to all of the sights, sounds and smells as well – soak it all in. Probably best to do this walk before you start on the Baileys!
3. Take lots of 2-minute breathing breaks
No matter how hard you try, there are going to be moments when you feel like you might just pop. When you feel the red mist glazing over your eyes and your jaw clench, that's a sure sign that you need to find a space to sit down and breath. My go-to space is the toilet! (btw…make sure you lock the door because the kids will walk in!) It's tricky to bring yourself down from a temper when it comes, but the best way I find is to take some deep breaths down into my tummy whilst I recite a mantra in my head. Something like 'I am calm and peaceful', 'I am calm and peaceful'…Slower and slower until the temper subsides (and the amygdala goes back to sleep). Find what works for you and take those two minutes at regular intervals.
4. Do something pleasurable just for you
I spend the largest part of the Christmas period 'doing' for other people. I don't mind, I actually love to look after other people and I get great pleasure from seeing them happy. I've learnt over the years that it's equally as important to take the time to please myself. If that means I'm taking an hour out of entertaining others to read my new book, or to have a bath, then I will. Guilt free. It's not, I repeat, IT IS NOT selfish to pay yourself a kindness like this. Christmas is for you as well as for everyone else. Take time out!
5. Get ready early
I know I'm one of those really annoying people who likes to get their Christmas shopping done in November, but it works! If you can get all of the presents bought before the month of December then you will be saving yourself tonnes of stress. Who wants to traipse around a packed-out high street with dozens of heavy bags, standing in mile-long queues just to get served, at this time of year??!! Not me! And probably not you. Enjoy the build up to Christmas safe in the knowledge that you don't have to be that person standing in that long queue. You're sorted, your pressies are safely under the tree already. You can wander around Tesco and sing along to the jingles as they play over the tannoy and smile to yourself at how wonderfully organised you are.
6. Explore creative ways to get in mindful mode
It has been my mission for many years to work mindfulness practice in around my family life. I don't have the time to sit in daily hour-long meditations but I do have a 10 minute shower every day. I do have 2-minute toilet stops. I do have a 10 minute laundry task per day (plus some on Sundays!) and I do have a 7 minute washing-up slot twice a day….etc etc… So, when I start to add up these little opportunities, I notice that I actually have over an hour of mindfulness practice per day. I can do this! As long as I approach every task mindfully, as if it is a mini meditation, putting my whole focus and attention on the process, then hey presto! I've nailed my mindfulness practice and done myself some good. We have way more jobs to do at Christmas time, so we can use these chores as opportunities to get even more mindful.
7. Play the gratitude game
I don't know any families who really take the time to celebrate Christmas for it's true meaning – the birth of baby Jesus. My own children would roll their eyes at me and choke on their chocolate coins if I attempted to even get them to think about it. So how can we make gratitude a more realistic and digestible concept at Christmas time for the family? Get everyone to think of all the things they have to be grateful for over the Christmas period. The warm home, the food, the time off of school, and of course, the presents. Stress dissolves when we let go of thoughts of lack and focus on the abundance we already have.
8. Have a day off!
And last but not least, make one of the day a PJ day. Get up in the morning, dry-shampoo your hair, leave the make up in the draw and put on your favourite pjs. Let everyone know that today is dedicated to rest. No cooking, no cleaning, no visitors, no visiting. A day of duvets, leftovers, snacks, Christmas movies and card games. Fun, fun, fun!