What is getting in the way of you living your best life? What's holding you back? Which areas need more work?
Many years ago, when I was at college studying for my counselling qualifications, I was introduced to the Personal Assessment Wheel. When I took the test I scored myself fairly low on a few areas. Money was shocking because I wasn't earning, my physical health was poor because I was neglecting myself and my own needs and fun and recreation were just non-existent.
Now, thank God, the scores are all much higher!
So, what is 'The Whole You Personal Assessment Wheel'?
Life coaches, like me, love them! They are a great way to get people to think about areas of their life and how well they're working for them. They're super simple and really easy to complete but they do actually get you to focus on the details. It gives you a nice little visual of the areas that you are flourishing in, and the areas that you need to work on.
The Whole You Personal Assessment Wheel
Print your Assessment Wheel here and get ready to make life happier!!
And How Do I Complete it?
I going to ask you to think about what success or satisfaction would feel like for each area and then ayou can rank your level of satisfaction with each area of your life by drawing a line across each segment. You'll need to place a value between 1 (very dissatisfied) and 10 (fully satisfied) against each area to show how satisfied you are currently with each category in your life.
Ask yourself the following questions in each category and then work out what score, out of 10 you think that would equate to.
Answer the important life questions to help you analyse your results, get laser focussed on the areas that need more work and then take action!
Ask yourself these questions in each category and then work out what score you would give yourself for satisfaction in that area settings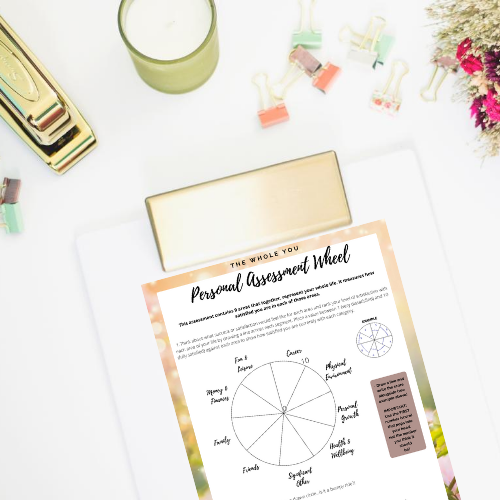 Download the Personal Assessment Wheel Here and find out what it is you need to work on to make life amazing!